Contact Us
Maryland Spectral Services occupies Suites G and H at 1500 Caton Center Drive, Baltimore, MD 21227, in the Caton Research Center R&D Park. MSS is conveniently located south of downtown Baltimore, only three minutes from I-95 and four minutes from the Beltway (I-695).
We encourage you to contact us if you have any questions or would like more information about us or our services.
Operating Hours
Our office is open from 8 a.m. to 6 p.m. Monday through Friday. We are closed New Years Day, Memorial Day, 4th of July, Labor Day, Thanksgiving and Christmas Day.
Directions
You can reach us at,
1500 Caton Center Drive
Suite G
Baltimore, MD 21227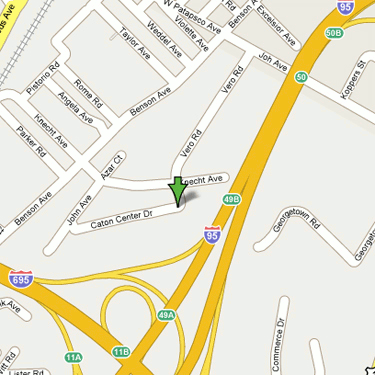 Phone: 410.247.7600
Fax: 410.247.7602
Email: reporting@mdspectral.com